ECHOS OF MIDDLE EARTH & WESTEROS 
SATURDAY 3 DECEMBER 2022 AT 8PM - METZ - ROBERT SCHUMAN CONGRESS CENTRE 

A concert that pays tribute to the great musical scores created by Howard Shore for Peter Jackson's "Lord of the Rings" saga as well as the beautiful music composed by Ramin Djawadi for the cult series "Game of Thrones". Music performed by an on-stage orchestra: piano, violins, flutes, cellos, violas, electric guitars, bass, Moog, percussion, drums, opera singer, and choir.
A rare musical journey filled with emotion. The orchestra performs a variety of different styles, from melodic and symphonic to rock. From the land of the Hobbits to Mordor, and from the riders of Rohan to the beacons of Gondor, every emotion is represented, with a 35-minute interlude in the land of Westeros devoted to the music of the cult series of the Iron Throne.
Duration of the concert: 1 hour 50 minutes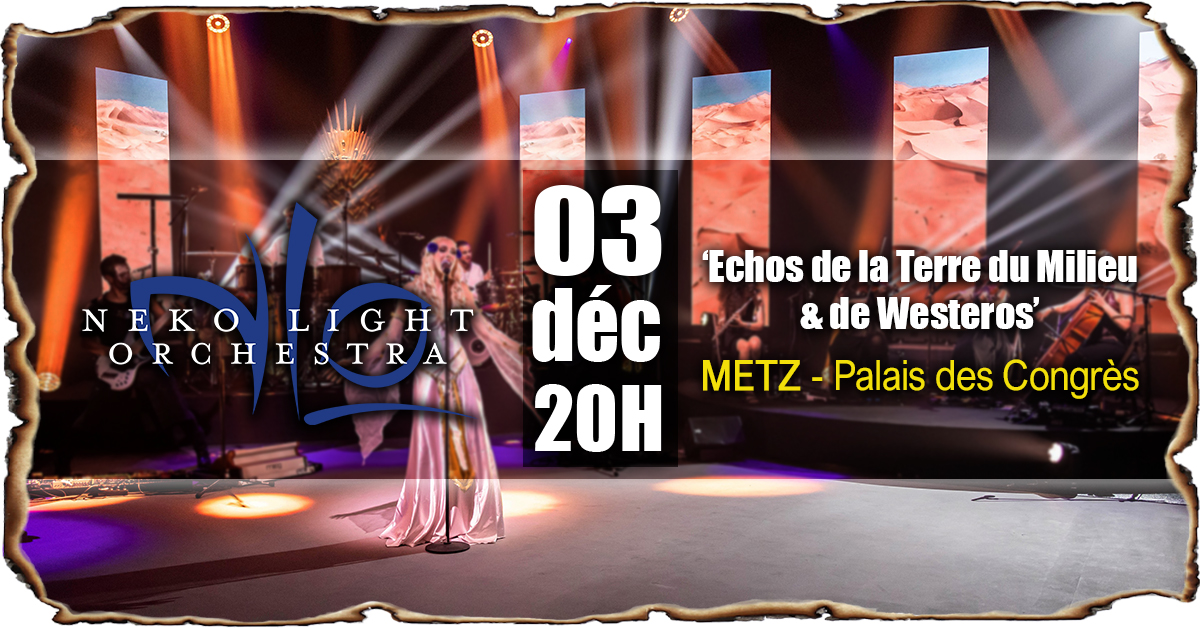 Tickets ► https://nekolightorchestra.festik.net/etmwmetz22/
ECHOES OF THE LITTLE WIZARD :
SATURDAY 3 DECEMBER 2022 AT 4PM - METZ - ROBERT SCHUMAN CONGRESS CENTRE 
The "Concert-Whose-Name-Shall-Not-Be-Spoken". "Echoes of the Little Wizard" (Echos du Petit Sorcier) is a concert that reinterprets the most beautiful music from the "Harry Potter" films, composed by the great John Williams, Nicolas Hopper and Alexandre Desplat. This show takes both young and old on a journey of dreams and imagination, with music and sounds that underscore the main stages in the life of the most famous little wizard in the world. The concert lasts 1 hour and 30 minutes, performed by an orchestra made up of a brass quartet, bass, flute, violin, viola, cello, piano, guitar, harp, drums, percussions, accompanied by bewitchingly beautiful vocals. Dressed in the colours of the saga, the orchestra will take you on a unique, rhythmical and lively musical experience.

Duration of the concert: 1 hour 35 minutes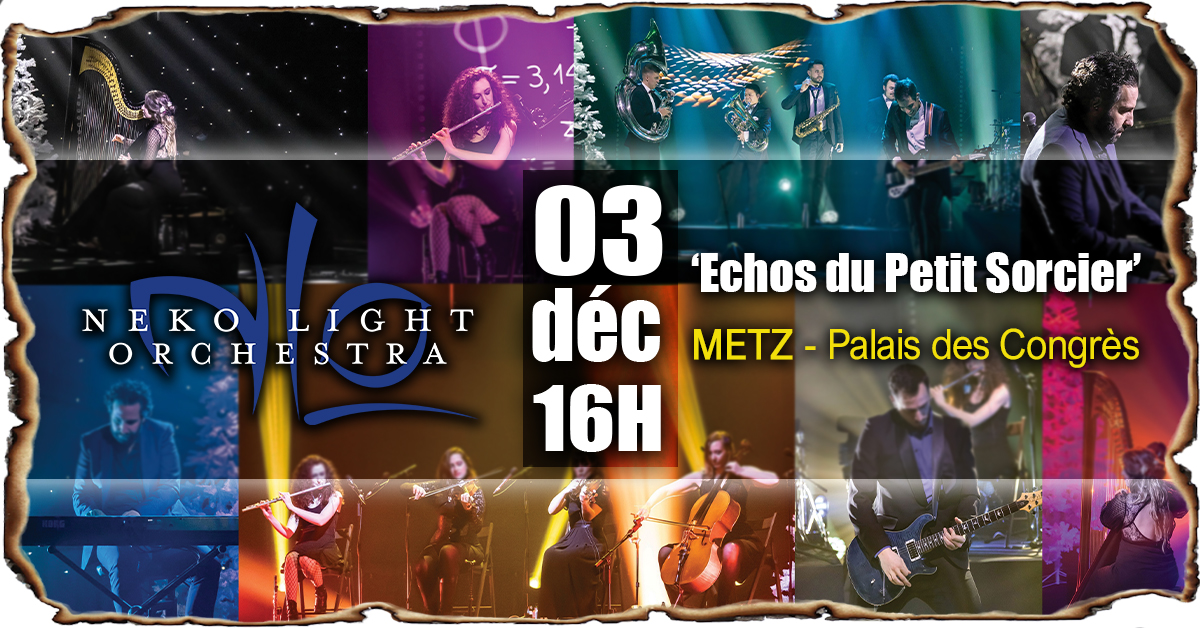 Tickets ► https://nekolightorchestra.festik.net/metzedps22/
---
The Neko Light Orchestra is made up of a group of 22 musicians and composers. The orchestra was created in Toulouse in 2011. This melodic rock orchestra specialises in reinterpreting music based on the Culture of the Imagination. The group is well known for its work in the fields of science fiction and fantasy, including Lord of the Rings, Game of Thrones, and Hayao Miyazaki's animated films... Founded by Nicolas Chaccour, the group quickly took the form a rock band "that thinks of itself as orchestra". The Neko Light Orchestra reinterprets various types of music, but always with the same goal: to create original versions. After starting out in conventions and events devoted to the "Culture of the Imagination" and "geek culture", the group quickly found itself playing in movie theatres and then in some of the most well-known concert halls in France and abroad.
 Having now performed some 300 concerts in front of 300,000 spectators, the group continues to cultivate the unique and original style on which its great public success has been built.
---